Ever since I had the opportunity to interview Pharrell this summer, I like to think of him as both my friend and neighbor here in Miami. Today, I was enjoying a (much needed) lazy Saturday scrolling through my Twitter feed when this tweet came up: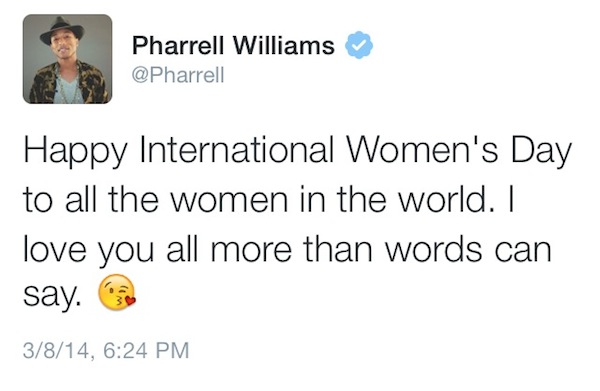 First of all, thanks for the International Women's Day love, Pharrell. I totally RTed you. The next thing I noticed was that he had a new Twitter profile picture (above). I clicked to look at the larger version of it and saw that he was wearing the same green and gold Chanel prayer beads that he wore the afternoon I interviewed him. They caught my eye that afternoon and a little research proved that he's worn them for years. And he's had them on in almost every photograph I've seen of him since then. I love that. He could easily rock a different piece of bling with every public appearance, but he doesn't. He chooses to wear that same necklace and there's probably a great sentimental story for why he loves it so much.
The next thing I noticed in the new profile pic was his grey v-neck t-shirt. The day that I interviewed him he was dressed simply and immaculately in a white v-neck, amazing jean shorts, shades and a version of his signature fedora. I love that those pieces come together for an effortlessly cool look. Since then, I've definitely seen him rock those jean shorts again and he's wearing them in his "Happy" video. I don't care if he has 10 pairs of the same shorts or he just wears the same pair over and over again, I love the idea of a fashion uniform.
And finally there's that ridiculously amazing oversized Vivienne Westwood hat that got so much attention at the Grammy's. I think it's super cool that he rocked it first at his New Year's Eve performance at the Fontainebleau and my sister and I were there to see it before the rest of the country. And, yes, he had his Chanel beaded necklace on that night, too.
Doing some research prior to my interview with him, I was shocked to learn that he's 40 years old. You've gotta love someone who stays forever young. He won me over by being incredibly nice and thoughtful when I interviewed him, and I remain mesmerized by his streamlined cool fashion sense.
I leave you with his "Happy" video because who doesn't love it? I'm pretty sure he's rocking my favorite shorts in his first look with the bow tie!