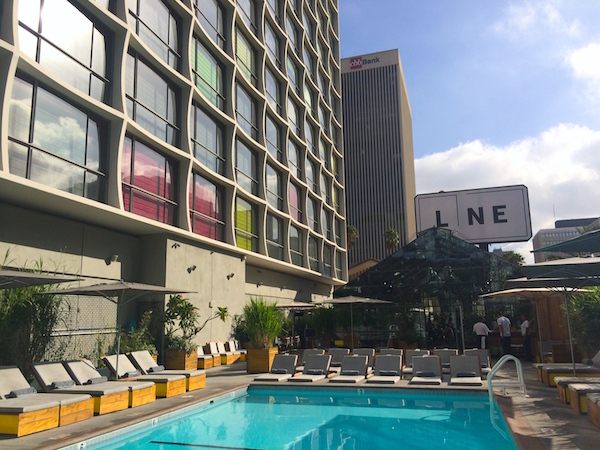 140 Character Overview:
Sexy, sleek digs in LA's Koreatown with an industrial-chic vibe by trendsetting Sydell Group. Views of Hollywood Hills. F & B by Roy Choi.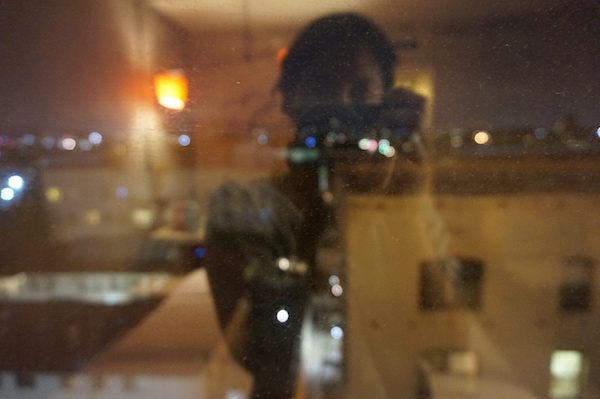 The Vibe:
Ultra modern with exposed concrete walls, California cool design flourishes and contemporary art pieces. A trendy spot with plenty of dining diversions, the rooms are nurturing abodes with high tech amenities (like electronic curtains for the floor to ceiling windows) perfect for luxuriating.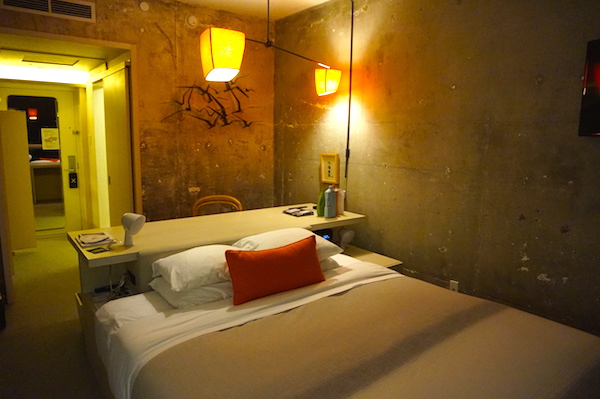 The Location:
Los Angeles' Koreatown is an up-and-coming destination for exotic dining with an energetic nightlife scene. I only stayed one night and didn't have the chance to experience the neighborhood, but I'd love to check it out next time. This NY Times 36 Hours in Koreatown video and article paints a pretty great picture, though.
F & B:
Chef Roy Choi, the man who singlehandedly ushered in LA's food truck craze with his Korean taco truck Kogi BBQ, heads up the F & B at The Line Hotel (3515 Wilshire Blvd., Los Angeles; 213-381-7411) with four distinctive dining destinations. Pot and Commissary serve as its two marquee eateries.
During my stay, I enjoyed room service for dinner (which they've branded as "Delivery") and breakfast at Commissary inside a light-filled greenhouse by the pool. Oddly enough, they were out of the first thing I tried to order at each venue, but I've forgotten what those selections were because everything I ate was so damn delicious.
For dinner delivery, I had pot stickers and a corned beef sandwich that was more like a tangy roast beef melt with buttery toasted bread, juicy, tender beef and ooey-gooey cheese melted inside.
Breakfast at Commissary was such a delight. My chorizo and eggs had the most perfectly crisped hash browns I think I've ever eaten, tying the whole dish together with great crunch and flavor.
The Specs:
388 rooms
12 stories
4 restaurants & a lobby bar
Outdoor pool
Gym
Poketo lifestyle boutique
Free WiFi
Meeting & events space
Rates from about $199 per night
The Verdict:
I loved my stay here. The room was sexy, luxurious and comfortable and the food was delicious. Overall beautiful environment to be in while visiting LA. Service and hospitality was great.
Shayne's Checklist:
Bathrobe: Yes. A karate-style cotton robe with a white belt (as opposed to, you know, a black belt).
Conditioner: Yes. Made for The Line by Baxter of California, the packaging was fancier than the actual product, though.
Bed Comfort Level: 4 Stars (out of 5).
This destination gets Shayne's "I'd like to live here for at least one month" seal of approval. Obviously, I'm from Southern California originally, so this was a sort of homecoming.