It wasn't until the winter of 2008 that I thought I might like to make a living as a writer.
I had saved up enough money sweating on parasail boats in Key West to spend the winter in Paris and to devote three months to working on a novel I had just started. I wrote for a few hours every day in a tiny flat on the seventh and top floor of a walk-up apartment, and then set off on foot to explore each arrondissement. I lived in the Latin Quarter, on the Seine, with the peaks of Notre Dame just visible from my window. The famed anglophone book store Shakespeare & Company was one block away on my right and Place Saint Michel was a block away to my left, and in no time I was on boulevard Saint Germain reveling in everything Paris had to offer. My landlord was a sociology professor at The Sorbonne and my room was lined with books. He told me that Matisse once lived in the building. To say that it was a magical winter sums up my experience perfectly.
I thought to myself, "this writer's life is for me." The freedom of time and creativity was intoxicating. But how to make a living at it? I spent the next two years in Key West and one more winter in Paris completing my novel, knowing that there was no guarantee of publication or a paycheck. Shortly after returning from my first trip to Paris, my dad sent me a newspaper clipping from the Atlanta Journal-Constitution's "Business" section. It was a recurring column on "why I love my job" and this one was by Atlanta freelance writer and author of The Well-Fed Writer, Peter Bowerman. The article prompted me to buy his book, which promised to be a guide towards "financial self-sufficiency as a freelance writer in six months or less."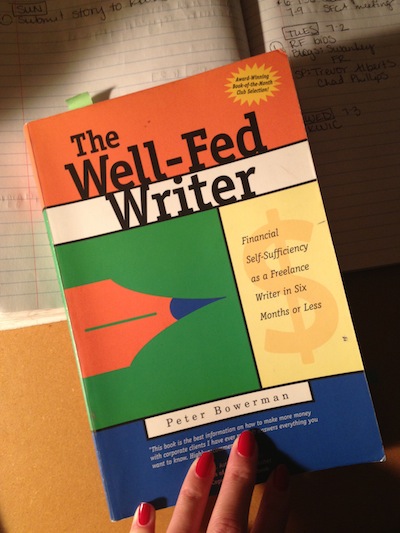 This became my touchstone text for charting a new career. I've pored over it, read it and reread it, and used it as a guide through every step of building my career. Whenever I discuss developments with my father, we jokingly remark, "What would Peter Bowerman do?" or talk of "the Bowerman approach." This book is about the business of writing. I consider it required reading for anyone who'd like to break into the industry and make a full-time, healthy living. It assumes a certain level of proficiency as a writer and gives you all the tools you need to run your business in a tone that's approachable and encouraging.
One important thing to note, The Well-Fed Writer focuses on a different type of writing that I'd never before considered. It has very little to do with magazines, newspapers, editorial, or creative writing. Bowerman refers to his type of writing as "freelance commercial writing," or copywriting, sales writing, and content marketing writing. I've found lucrative work in all of these categories, and similar ones, such as social media and publicity, but I've also parlayed his advice into a fulfilling career in editorial lifestyle and travel writing. While my commercial and editorial work keeps me busy, it's a career that I control and it also allows me time for my creative ambitions.
This week, I plan to share with you the most important things I took away from the Bowerman approach, and how I applied them to growing my career in the following topics:
Check back every day this week as I dive into these topics.
Are you interested in becoming a full-time writer? What questions do you have? Are you a fellow freelance writer? What's some of the best advice you've gotten in your career? Let's start a dialogue in the comments below!